Nick's Pokemon Fan Site
---
About Us
Staff Members: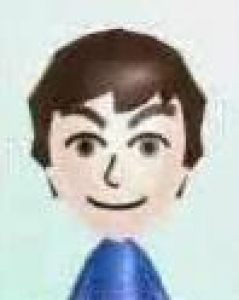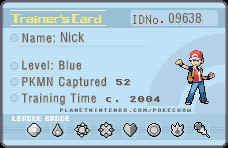 I first heard about only Pikachu when I was in 2nd grade, I saw other kids in my class with Pocket Pikachu, at this time I didn't no anything about Pokemon. Then when I was in 3rd grade I started watching the tv show and I got really interested in it, all over my school everybody was talking about Pokemon. During Reccess everybody brought these big binders full of Pokemon cards and they traded them with each other I used to watch them because I couldn't trade with them because I didn't have any Pokemon Trading cards. Then a few months later my school banned Pokemon cards so nobody could bring them to school anymore. When I was in 4th grade I got Pokemon Stadium I played the game a lot and I beat some of the cups. A few moths later my friend Tim was selling some of his old Game Boy games and I noticed that he had Pokemon Yellow so I bought the game from him and started playing the game and I also connected the game with my Pokemon Stadium and battled with my friends and my brother. When I was in 5th grade I got my first pack of Pokemon Trading cards from somebody in my class and so I got more and more cards. That's is how I started liking Pokemon and I still like Pokemon to this day.
My favorite color is Blue
My favorite Pokemon is Pikachu
My video game systems are Nintendo 64, Nintendo Game Cube, Playstation, Playstation 2, Game Boy Color, Game Boy Advance, Nintendo DS and Nintendo Wii
I started watching Pokemon when I was in 3rd grade and I still watch it
Interests/Hobbies: Pokemon, Playing Video Games, Recess, Drawing, Talking on the Internet, Riding my bike, helping people with computer problems.
Dislikes: Spongebob, Anti-Pokemon Losers and High School (lol)

Pet Peeves: Being blamed for something I didn't do, being blamed for something I didn't only do, being snitched on and people that use the word "kiddy" and "fanboy" all the time.

Ride: My Bicycle =D

Favorite School Subject: Art and Computer Class

Favorite Favorite Food: Pizza and Pasta

Favorite Drink: Coke, Sprite, Orange Soda and Lemonade

Favorite Ideal Vacation Spot: Florida

Computer Connection: DSL

Favorite Pokemon:

Pikachu
Charmander
Pichu
Chimchar
Aipom
Bulbasaur

Favorite Region: Kanto

Favorite City: Pallet Town, Kanto

Favorite Gym Leader: Misty

Pokemon Anime Character Most like: Ash


Ryan aka LoneVolteer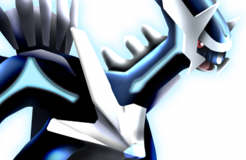 About Me

I first heard about only Pokemon when I help a store clean up and got
pokemon blue for free.

My favorite color is Green

My favorite Pokemon is All of them aka Mew

My video game systems are Nintendo 64, Nintendo Game Cube, Playstation,
Playstation 2, Game Boy Color, Game Boy Advance, Nintendo DS and PC

I started watching Pokemon when it 1st came to YTV

Interests/Hobbies: Pokemon, Playing Video Games, Recess, Drawing, Talking on
the Internet,dating.

Dislikes: Noobs who say head shot or pw3ed only i can say that

Ride: My shoes

Favorite School Subject: Computer Class

Favorite Favorite Food: Water melon

Favorite Drink: Coke, Sprite, Orange Soda and Lemonade

Favorite Ideal Vacation Spot: Nintendo

Computer Connection: DSL

Favorite Pokemon:

Pikachu
Lucario

Favorite Region: All of them

Favorite City: All of them

Favorite Gym Leader: there are noobs

Pokemon Anime Character Most like: Ash

And
Hi Everyone Meet bunny
(\__/)
(='.'=)
(")_(")
Nick and Kevin Pokemon Fan Site